SPACE WATCH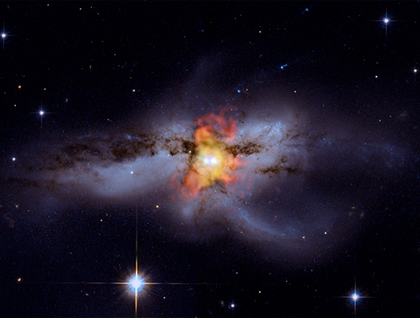 NASA – Using the deepest X-ray image ever taken, astronomers found the first direct evidence that massive black holes were common in the early universe. This discovery from NASA's Chandra X-ray Observatory shows that very young black holes grew more aggressively than previously thought, in tandem with the growth of their host galaxies.
Chandra Deep Field South

By pointing Chandra at a patch of sky for more than six weeks, astronomers obtained what is known as the Chandra Deep Field South (CDFS). When combined with very deep optical and infrared images from NASA's Hubble Space Telescope, the new Chandra data allowed astronomers to search for black holes in 200 distant galaxies, from when the universe was between about 800 million to 950 million years old.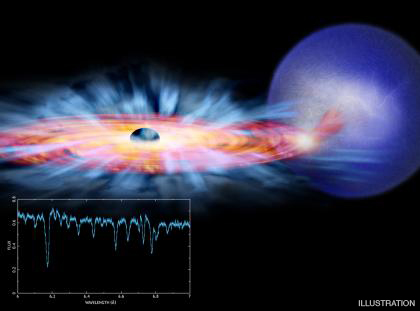 "Until now, we had no idea what the black holes in these early galaxies were doing, or if they even existed," said Ezequiel Treister of the University of Hawaii, lead author of the study appearing in the June 16 issue of the journal Nature. "Now we know they are there, and they are growing like gangbusters."
Baby Black Hole

This is an artist's impression of a growing supermassive black hole located in the early Universe, showing a disk of gas rotating around the central object that generates copious amounts of radiation. This gas is destined to be consumed by the black hole. The black hole's mass is less than one hundredth of the mass it will have when the Universe reaches its present day age of about 13.7 billion years. Image credit: NASA/CXC/A.Hobart
Baby Galaxy Core

This artist's impression shows a very young galaxy located in the early Universe less than one billion years after the Big Bang. The distorted appearance of the galaxy is caused by the large number of mergers occurring at this early epoch, and the blue regions mark where star formation is occurring at a high rate. The core of the galaxy is embedded within heavy veils of dust and gas.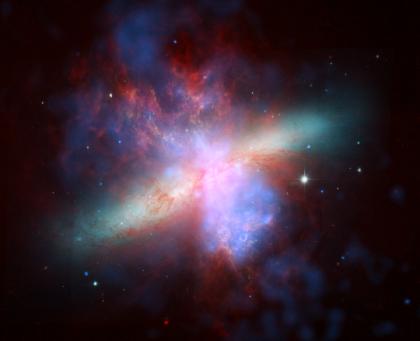 A cut-out from the core shows that this dust and gas is hiding very bright radiation from the very center of the galaxy, produced by a rapidly growing supermassive black hole. Image credit: NASA/CXC/M.Weiss